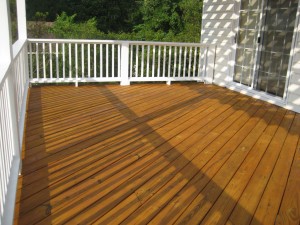 Our customers frequently ask us what time of year is the best for tackling certain exterior jobs such as painting, pressure washing, staining or sealing outdoor flooring and making general small repairs.
Although here in southeastern N.C. we experience some of the best weather in the country, we think that late spring/early summer is just about ideal for addressing your home's exterior maintenance needs.
If you are considering a fresh coat of paint for your home's siding and trim, giving it a good pressure washing beforehand serves several purposes. It will thoroughly clean all  of the surfaces, trim, steps, walkways, and  easily remove any flaking paint or stain.
Prep
Take it from us, prepping for an exterior paint job with pressure washing is quick, easy and mess-free! We have even had customers discover that their home was not due for a paint job at all; it just needed a good cleansing blast from the Colour Solutions team!
Paint
As for painting, the good news is that the pollen is gone and the temps are seasonably mild, yet sunny. Which means quicker drying times, plus the days are longer so there's more time to complete the task. The same applies to staining and sealing wood decking and porch flooring.
Another pro is that the kids won't be out of school for a few more weeks, so no little footprints should hamper the progress! Then, when those long, lazy summer days finally roll around, your place will be ready for full-on family enjoyment!
Spruce
Sprucing up your home's exterior provides immediate gratification. However, please don't neglect other "to-dos." There are plenty of spots that fall into the "out of sight, out of mind" category. However, though they are not exactly exterior areas,  the attic, crawl space and basement needs your attention too.
No summer home maintenance check-list would be complete without this entry:
Check for Leaks and Rot
After the much more frigid and wetter than usual winter we had, it is imperative to check all the areas of your home for any signs of moisture, mold, mildew or rot. If that is out of your area of expertise, just give us a call. We have heard stories from more than one customer about the damage caused by burst pipes.
The unfortunate twist is that homeowners were often unaware there was a problem at all. Please remember that in addition to our usual services, we also do small repair jobs and are experienced in diagnosing issues before they get out of control.
Drier summer weather allows areas that are prone to moisture retention to dry out a bit. Thankfully, that makes it much easier to fix any problems that may have arisen. Replacing wood, fiberglass or insulation that shows signs of excessive dampness is the best way to remove mildew and dangerous mold from getting a foothold.
When you have the piece of mind that your home is impeccably maintained (maybe with a little help from Colour Solutions) it will be a snap to take in every available bit of summer fun: beach days, bike rides, boat trips, barbeques…
Please call 910-686-3067 to find out what we can do for you.