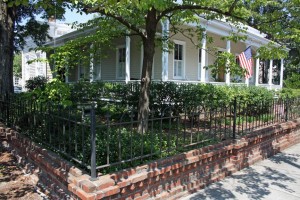 One of the greatest things about Wilmington is its colorful landscape – from the sandy browns and cool blues of the beach to the soft pinks and lush greens of downtown's historic homes, Wilmington is a vibrant place with a great mix of color. If you're thinking about giving your own home a classic Wilmington-inspired look, here are a few color ideas to consider:
Historic Colors
Some ideas: Confederate Grey, Honeysuckle Yellow, Soft Sky Blue, Candlewick Beige, Soft Rose
Locals and visitors alike are drawn to the beauty and charm of the Wilmington Historic District. The century-old buildings and old-fashioned homes make you feel like you've stepped back in time, to the antebellum days of horse-drawn carriages and brick-paved streets. One of the coolest things about historic downtown is the abundance of beautifully restored homes. These homes are perfect examples of historic color. A quick stroll down any of the streets in the historic district, and you'll see a variety of traditionally historic colors. From soft yellows to cool blues to hazy greys, Historic Wilmington's color palette evokes the ambiance of the Old South while preserving the look of today.
Coastal Colors
Some ideas: Sea Foam Green, Sand Castle Beige, Driftwood Brown, Sea Glass Green
Coastal colors are typically soft, muted shades of green, blue and brown, but fortunately, you don't have to be restricted too much when it comes to choosing a color that's reminiscent of Coastal North Carolina. When you think about the colors of Wrightsville Beach, for example, you might also think about the brightly colored kayaks you've seen going through the channel or the bright blue roof of Bluewater Grill. You could even have the best of both worlds by choosing a lighter, more neutral color for your home's exterior and complement it with some bolder, brighter color for the doors and shutters. Maybe a sandy beige exterior with turquoise shutters would help your coastal home "fit in."
Bold Colors
Some ideas: Azalea Pink, Tomato Red, Wilmington Hammerheads Blue
Want to give your home a Wilmington-inspired color that will really catch people's eye? Why not go bold? As most of you may know, Azaleas are a common sight here in Wilmington and are sort of a trademark for the area. The bright pink and vibrant purples of these shrubs' flowers can evoke feelings of cheer, warmth and energy. (Just make sure your home owner's association will approve such a dramatic color choice!) Likewise, bright reds are becoming a popular choice for homes, particularly for interior rooms and exterior accents like doors and window shutters. Choose a bright, hearty red – one that reminds you of a fresh summer tomato or bell pepper (common sights in many Wilmington residents' gardens). If pinks and reds aren't your favorites, why not go for the opposite end of the color wheel and pick out a bright, bold blue. A bright aqua blue would not only be pleasing to the eye, it would be a great nod to the local soccer team, the Wilmington Hammerheads!
Want more ideas for your home's color makeover? Contact Colour Solutions today for a free consultation and project quote: (910) 686-3067.