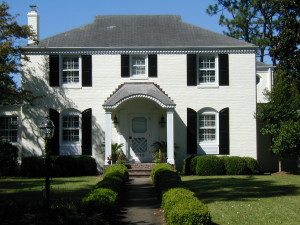 Have you ever heard the expression, "What looks in, looks out"?
When it comes to a home's exterior, perhaps truer words were never spoken. In addition to the usual question of general curb appeal, when a home's outside presents a freshly painted and well-kept appearance, chances are the inside is also well maintained.
For homeowners, a clean, crisp exterior paint job can impart feelings of order and aesthetic balance, along with a little pride. This works wonders and can even boost one's sense of well being! On the other hand, a place with peeling, faded siding and dingy trim, can make a heart sink. Furthermore, anyone considering a home's appreciation potential or contemplating a future sale, will want to keep the exterior of their residence looking its very best. After all, a home is typically the largest single investment most individuals will ever make and maintaining, updating, and upgrading the property is an ongoing and rewarding process!
How do you feel when you arrive at your "Home Sweet Home"?
At Colour Solutions we can help you discover a variety of ways to put your home's best foot forward. Sometimes all that's needed is a quick pressure wash or touch-up paint job on the exterior trim, entryways or steps. Our staff of designers has years of experience in guiding our customers to paint and stain choices that will best suit their needs.
The weather in southeastern North Carolina can be tough on exterior finishes. The heat of summer, heavy rains and wind, salt air, plus the frequent humidity, may generate issues such as mold, mildew, and even accelerate the aging of some paints and stains. If it has been a while since you reviewed what's available in the way of exterior paint and stain products, you're in for a pleasant surprise. The team at Colour Solutions is equipped to offer suggestions including which products will perform their best to keep your home's exterior looking fresh and new for years to come.
To arrange for a free estimate or consultation, just give us a call at 910-686-3067.
Spring is truly just around the corner, which is why now is the perfect opportunity to get your home looking its very best! We look forward to working with you in the future and encourage you to read what our many satisfied customers are saying about our services.