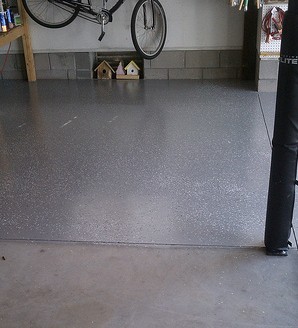 Let's face it, no matter how much effort goes into achieving great curb appeal, the effect is lost when certain areas are not up to par. This is especially true of garage floors. Since many homes have entryways that are frequently accessed through the garage, it is important to keep those floors looking their best.
The cement and concrete surface areas in garages are prone to color irregularities and stains from oil leaks. The team at Colour Solutions knows just how to bring those floors back to life with pressure washing and a variety of coatings, paints and stains. Because there are so many products available for upgrading cement finishes, our painting pros can help you evaluate which ones would best suit your needs. In addition to completely freshening up a garage floor, painting or staining it also serves to hide flaws and tiny cracks.
We encourage you to visit our online gallery to see jobs we've completed in the Wilmington area. Along the Cape Fear coast, some of the most popular color choices for cement and concrete floors have been gray, terra cotta, green, white, and red. Regardless of which color you choose, rest assured that when we are done, it will look its best!
To learn more, schedule an appointment, or discuss paint and stain options, please call Colour Solutions at 910-686-3067.