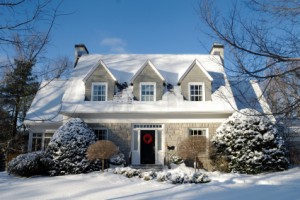 Harsh winter weather can be tough on a house. That is why routine maintenance during this time of year is critical. Not only can a few simple tasks keep your home looking its best, paying attention to certain details can also save you a bundle on future maintenance and your electric bill.
Please use the following checklist as a handy guide for wintertime "to-do's"…
Either do a thorough inspection of your home's exterior, or pay a professional to do it. The goal is to assure that the home's roof and gutter system, windows and doors are all in excellent working order. The old-fashioned, yet tried and true method of testing window and door seals is to hold a lit candle inside the home near window or door seams. If it flickers quite a bit, that means cold air from the outside is rushing in!
Replacing the caulking and weather stripping around windows and doors makes a huge difference in how well they function. Because over time, building materials expand and contract with changes in temperature and moisture, caulk and weather stripping can pull away from the areas they were applied to. Caulk that has past its prime also tends to harden and become brittle.
The professional team from Colour Solutions will be happy to inspect your windows and doors to see it it's time to replace the old caulk or weather stripping. Based on your home's construction materials, they will also be able to recommend which products will be best for the job.
After new caulking is applied, there's nothing to seal it in place better than a fresh coat of paint!
Sometimes caulking and weather stripping are just not enough. If advised, replace old or inefficient doors and windows with new EnergyStar approved ones. When doors and windows are not effectively blocking the cold air out and keeping the warm air in, it is challenging for your HVAC system to work properly. Failing to address such issues will likely result in higher than normal heating bills.
If you'd like to learn more about how our services can help your home be more energy efficient and looking its best, please give us a call at 910-686-3067.