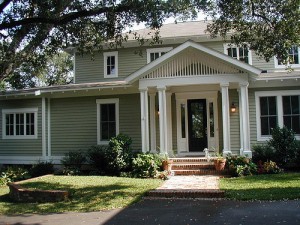 Think of your home's exterior trim as you would an accessory, such as a necktie or scarf. The idea when choosing a paint or stain color is to compliment rather than detract or overpower the general appearance. The architectural style of the home is also a consideration. There are some styles, such as Colonials, Queen Anne Victorians or Arts and Crafts bungalows that follow a suggested color palette for achieving historical accuracy.  See: Classic Paint Colors Ideal for Wilmington NC.
For more traditional residences, a good rule of thumb is to pick a color that contrasts from the whole house color. For example, with homes painted in light shades like crisp white, pale gray, beige, or buttercream yellow, dark choices are popular such as black, cranberry, dark green, or gun metal gray. Another approach is to use trim colors that are either a few shades darker or lighter and in the same color family as the base shade. Earthy tones often look better with another only slightly contrasting natural color. For example, a tranquil moss green or rich beige could handle a trim choice that's only a few shade variations from the base color.
Unless the neighborhood dictates which colors you may use, the bottom line is that trim color choices are a matter of personal taste. When in doubt, go for dark trim with a light background and light trim for a dark exterior shade. Of course, the designers here at Colour Solutions will also be happy to help guide you in the right direction!
Best Wood for Replacement Trim
When it's time to freshen up a home's exterior trim, a homeowner may discover that some of the wood needs replacing. The elements, along with mold, fungi, and mildew can wreak havoc on the thin strips of wood that trim your home.
Builders often prefer southern yellow pine (SYP), cedar, mahogany, and redwood for exterior trim. Although poplar is frequently used for interior trim, it simply can not withstand changeable temperatures and moisture for very long. There are also a wide variety of synthetic trims on the market these days. Before making a selection, it is advised to read reviews and discuss the matter with both a qualified builder and painter.
To maximize the life of the trim, it is advised to always prime it on all 6 sides.
Save time by having the experts at Colour Solutions handle your trim painting for you.  Give us a call today to learn more: 910-686-3067.