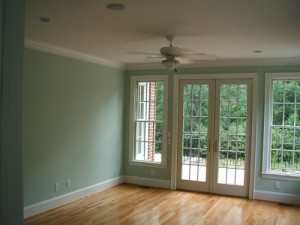 Anyone considering putting a home on the market may scoff at the idea of investing in a new paint job. After all, won't the new owners choose their own colors and shouldn't they be able to see beyond those dingy walls and chipped trim? While these points may be valid, investing in fresh paint, both inside and out, can be much more beneficial than you may think. Designers and home improvement professionals have agreed for some time, that dollar for dollar, painting nets the most bang for the buck! Furthermore, putting your home's best foot forward by making needed repairs, updates, and applying new paint, will very likely increase its value and allow for a higher asking price.
Improving your home with paint can be as involved as completely painting your home's exterior, redoing every room with the latest trendy colors or just touching up the trim. If it has been a while since you chose new paint, the experts at Colour Solutions will be happy show you the latest products and colors and steer you in the right direction. They have experience with creating neutral palettes that will compliment the setting and appeal to a broad base of potential homebuyers.
In addition to painting, the Colour Solutions team can also help you get your home "move-in" ready. Here are just a few examples of some of the other home improvement services we offer:
Concrete Cleaning – Makes driveways, walkways and patios look new.
Drywall repair – Fix those problems before painting!
Wallpaper removal – This can be tricky and leave an uneven surface, which is why we'll be glad to tackle this type of job.
Gutter cleaning – Unclogged gutters show that a house has been well maintained.
Pressure Washing – Nothing beats it for prepping a home's exterior prior to painting.
Stripping and refinishing doors, floors & other surfaces – The Colour Solutions crew can freshen up tired woodwork.
Light Carpentry – We also do small jobs and minor repairs.
Before calling your real estate agent, please call Colour Solutions. We'll help you spruce up your property so it will list for the maximum asking price! Please give us a call at 910-686-3067.