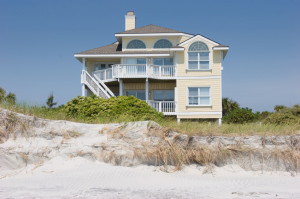 The fall season is often a time of reflection for homeowners along the southeastern coast of N.C. Between Memorial Day and Labor Day the weeks are typically filled with trips to the beach, time on the boat, barbeques and numerous house guests.
When autumn finally rolls around, many who own coastal properties notice some serious sprucing up is in order. The summer heat and humidity can wreak havoc on your home's painted surfaces, inside and out. At Colour Solutions, we agree with the old adage, that dollar for dollar, painting your home is one of the most cost-effective improvements you can make. With fall's cooler temps and dryer air, perfect painting conditions are here, so why not freshen up your beach house with some favorite coastal color combinations?
For exteriors, classic choices are a solid winner. Along the beaches of N.C., lots of homeowners choose shades that blend and compliment their surroundings. Timeless matches are rich grays, sandy beiges, butter cream yellows, pale shades of sage and light blue, all paired with crisp, white trim.
Recently, there's a trend to opt for the bold and cheerful Caribbean color schemes. Vibrant hues of pink, orange, aqua, blue, and yellow can totally transform an older beach cottage. Whimsical contrasting pops of color for the trim, doors, windows, and shutters, are also very popular.
To maintain an airy feel inside the home, light colors are always a good choice. Whitewashed walls with accents of bottle blue, sea glass green, beach sand, or pelican gray are effective for achieving cottage chic. Painted ceilings and floors are another easy way to make rooms bright and breezy.
The idea of painting old knotty pine paneling that is in some older beach houses, would make some cringe, however, there's no better way to lighten up. The same goes for brick fireplaces and mantels. Changing the finish from tired red clay to serene oyster white works wonders and is an easy way to update.
For more ideas, we encourage you to schedule an appointment to discuss paint and stain options. Please call us today at 910-686-3067 or contact us online.