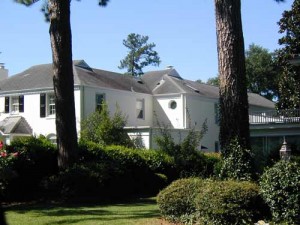 Most homeowners are aware that weather and changing temperatures can directly impact the wear and tear on their homes. However, the severe temperature dips and harsh precipitation associated with the winter months are what most homeowners focus on. Although in some parts of the country, the summers are warm and dry, there are many states in which high humidity and heavy amounts of rain wreak havoc on homes' painted or stained finishes.
In the greater Wilmington area, the combination of high humidity and rain can wreak havoc on exterior materials such as wood, masonry, and metal.  Excessive moisture can result in mildew and algae. Check your exteriors for signs of these culprits and clean them a soon as possible. A solution of 2 parts water, one part bleach, and one part a mild detergent, such as Borax, is recommended.
If you live in or around Wilmington, NC, contact the experts at Colour Solutions to discuss which paints and stains are mildew-resistant and which ones are better suited for your application-oil-based or latex.  Colour Solutions will be able to match the best quality paint for your application for the ultimate protection and beauty of your home or business.
Be aware that moisture and humidity can creep inside and create problems for a home's interior as well. Kitchens, bathrooms, and basements are the most susceptible. Rule out leaks or rotten wood to ensure that these issues do not get out of hand. For most homes that have a mild problem with interior humidity, a simple clean up and the ventilating with air conditioning, fans, or open windows, is all it takes.
If a DIY painting project is in your future, here are a few suggestions for success:
If it is not warm enough outside to dry laundry on a clothesline, it's not warm enough to paint.
Wait before you paint if water splashed on cement does not dry quickly or in 15 minutes. You could also test this by brushing water on the area you want to paint or stain.
Light breezes are perfect, however, windy conditions can ruin your perfect application with tiny debris and cause the job to dry unevenly.
Do not paint outside in very hot weather or in direct sunlight. It can cause blistering. Painting "in front of the sun" is frequently suggested, which means painting in the direction the sun is moving, just ahead of its path.
Overcast, but warm days, with no chance of rain are ideal for exterior painting projects.
Before breaking out the brushes and drop cloth, call our team at Colour Solutions.  You may find that hiring the pros will be well worth the time and resources it saves you!  Plus, you'll know that your home will look beautiful and the painting will done in a flash.
Call us today to request a quote or complete the form on the right side of this page: 910-686-3067