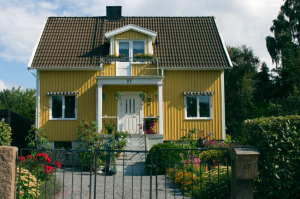 Are you trying to get your home looking its absolute best before putting it up for sale? Or perhaps you're trying to market it as a rental property and you want it looking great so you'll attract more visitors? Or, maybe you just want to improve your home's curb appeal even though you aren't planning on moving out any time soon! Whatever your motivations may be, summertime can be a great season for adding some oomph to your home's exterior.
Here's a look at 5 easy ways to boost curb appeal without having to spend a lot of time and energy.
1. Neat and Clean Windows (Keep them clean and free of cracks!)
Sadly, many homeowners forget to tend to their windows during their regular home maintenance. This is a shame because nice, clean windows can do wonders for both your home's interior and exterior. It will make your home look brighter, more inviting, and it will help fill your rooms with natural daylight.
In addition to having your windows thoroughly cleaned (inside and outside panes), you should check around the window panes for cracks or other minor damages, either to the surrounding wood shutters or to the window glass itself. If you notice anything, go ahead and fix these issues now. If you see some cracks in the wood, make a quick run to the local hardware or home improvement store to get some wood putty filler and paint. Simply follow the directions on the putty for filling in wood cracks and then paint over the treated area once it has set. If you notice a crack in the window glass, you can pick up some waterproof silicone sealer. You'll use it much like the wood putty – simply fill the crack or small hole with the sealer and smooth it out so that the sealer is flush with the surrounding glass. A putty knife or popsicle stick does the trick. Remember, this is a temporary fix and you'll probably want to replace the window glass at some point.
If you'd rather not do these projects yourself, you can always contact us! Colour Solutions is pleased to offer comprehensive painting services to residential properties throughout the Wilmington, NC area. Additionally, Colour Solutions can handle a variety of other small home improvement jobs. Call us today for a free estimate. (910) 686-3067.
2. A Welcoming Front Entrance (Add some fresh paint to the front door, keep walkways and front porches swept and free of clutter, add some attractive house numbers)
When visitors come to your home for the first time, their first look at your home will include the entrance. A first impression is important, so spiffing up your home's entrance should be a priority, especially if you're planning on putting your home on the market.
To do this, make sure you keep your front entrance free of leaves, grass, dirt and other debris by sweeping regularly. You could also spend a few dollars on some nice, new house numbers to add to your home's entraceway. You can find these at any home improvement store and they're usually about $4 each.
Finally, adding a coat of fresh paint to your front door can be a powerful way to boost your home's curb appeal. Just make sure you choose a color that complements your home's exterior color. If you're not sure about what color to select, you can always call us at Colour Solutions for paint samples. Remember, the way the colors will look on the swatches will be different than they way the color looks in natural sunlight. When comparing swatches, be sure to do it outside, standing near your front door to get the best idea of how the color will look.
While you're at it, why not go ahead and paint your window shutters and some other small features? You mailbox could probably use some fresh paint and your window shutters would look great in a color that matches the new front door shade!
If you'd like to leave the painting projects to the professionals, feel free to contact Colour Solutions – Wilmington, NC's home painting experts! Don't think you can afford to hire painting pros? You might be surprised how affordable it is! And, if you're only painting a front door, shutters, and other small areas, your bill will be much more manageable than if you were painting an entire house.
3. Neat Landscaping (Don't overdo it, just maintain what you have)
People rarely enjoy doing yardwork in the hot, humid summer months. Here in the Southeast, most homeowners put off even the simplest tasks like mowing their lawn because the heat can be unbearable. Even though it's tough, try not to fall behind on your lawn maintenance. Don't worry too much about adding anything into the mix like extra flowers, shrubs or trees – the less you have to take care of the easier and cheaper this will be! Simply focus on maintaining what you already have in the ground and, if you begin to feel ambitious, maybe add a few small touches like solar powered landscaping lights or fresh mulch.
4. Mildew-Free Exterior (Power wash your home's exterior to keep mildew at bay)
Pressure washing your home's exterior is a quick, fairly simple process that will keep your home looking great for several months. A lot of homeowners choose the "do it yourself" method when it comes to pressure washing. While this can often save you a few bucks, keep in mind that pressure washing involves the use of chemicals to remove mildew and other bacteria that can accumulate on your home. If you plan to pressure wash your home on your own, be extra careful when handling the cleaning substances and when operating the device.
For those who might not have the time or ability to pressure wash their own homes, Colour Solutions offers professional pressure washing services at affordable rates.
5. Painted Porch & Porch Ceiling
Got a fabulous front porch? Show it off with a fresh coat of paint! And, while you're at it, don't forget the porch's ceiling! It might sound strange, but having a nice, clean and neatly painted ceiling can add a whole other level of appeal to your porch. While some visitors might not take much notice of the nice, beautifully painted ceiling – potential home buyers will. When buyers view a home they're considering, they look in all the spaces, nooks and crannies that your typical house guest wouldn't dream of peering into. So, if you want to really make a good impression…don't forget the ceilings!
Colour Solutions can provide clients in the Wilmington area with a variety of outdoor paint styles and colors that are perfect for porches. Speak with one of our representatives today to set up a consultation!  910-686-3067