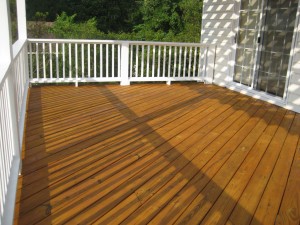 If you want to have your outdoor deck looking ship-shape in time for summer, the time to schedule your staining and painting service is now! Colour Solutions offers high-quality, professional deck staining and painting at affordable prices, which is why we're already booking up fast!
Summer is a time of backyard barbecues, family reunions and other at-home gatherings. If you'd like to impress your guests with an outdoor space that's attractive and functional, a deck painting or staining project may be just the thing. You'd be surprised at what a difference a professional paint or stain can make for your deck!
Naturally, wood decks are subjected to the elements year-round, which can cause a lot of wear and tear as the seasons change. In North Carolina, our weather can fluctuate wildly, which means keeping your deck properly protected is essential to extending the life of the material. A high-quality stain not only makes your deck look more attractive, it protects it from Mother Nature's challenges. Staining can prevent mildew, protect from ultraviolet rays and can help keep the material from rotting. Additionally, deck stains come in a variety of shades to suit your personal style. From rich, dark tones to light, natural shades and a few things in between, Colour Solutions can help you find the right choice for your wood deck stain.
If you'd rather have your deck painted, Colour Solutions can recommend a paint material that works well for outdoor wood surfaces. In addition, Colour Solutions will completely prepare the surface to minimize the risk of moisture and other environmental factors that may compromise your deck's material. Like staining, painting your wood deck offers a variety of protective benefits, but may require a few additional steps; applying an exterior wood primer, for instance (see: Deck Painting Ideas in North Carolina) . But don't worry; Colour Solutions has a team of highly experienced home improvement professionals who will treat your project with the utmost care and professionalism.
Instead of trying to do it yourself, hiring a professional wood deck stainer or painter can save you a lot of time and energy. If you'd like to begin planning your deck staining or painting project, feel free to contact Colour Solutions today. Give us a call at (910) 686-3067 or simply fill out our contact form online – but don't delay! Our schedules are quickly filling up as people begin preparing for spring and summer!