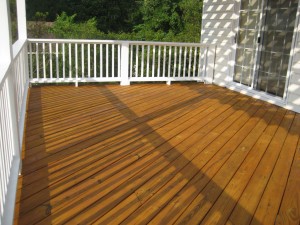 Are you tired of your worn out looking deck? Ready to give your outdoor space a facelift in time for summer get-togethers? Take a look at this list of deck painting ideas and tips and then call Colour Solutions for a free estimate! 910-686-3067
Tip #1
Decide whether you want to paint or stain your deck. Both choices have certain benefits. Stain will protect your wooden deck from mildew, moisture and ultraviolet sun damage and comes in several shades and colors. Paint comes in a wide variety of colors as well, and will still offer some protection. Talk to an expert at Colour Solutions for more specific advice on your particular deck.
Tip #2
If you decide to choose a paint for your deck, you'll probably need additional products to get the same level of protection that a stain will offer. Exterior wood primer, for instance, can offer extra protection against moisture.
Tip #3
Choose a paint or stain color that complements your home's exterior. If your home's exterior is in earth tones, you might not want something too bright or extreme. Alternatively, if your home is brightly colored, a white paint or bright and cheery paint color may work perfectly!
Bottom Line: There are several factors that go into choosing the best paint or stain product for your deck. Location, material and your home's overall color scheme will help determine the specifics for your deck painting or staining project.
Ready for a free deck painting or deck staining estimate? Call 910-686-3067 today!