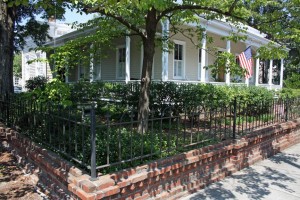 Living in southeastern North Carolina means your home will inevitably be subjected to salt, wind and rain. Although it's rare along the coast, your home's exterior could even endure below-freezing temperatures with snow and ice. Therefore, when it comes to choosing a paint product for your home, you'll want to invest in something that will stand up to the elements.
Here are a few helpful tips when it comes to choosing a paint for your North Carolina home's exterior:
–> Oil-based paints are more likely to chalk and fade in sunny exposure. If your home is in an area where it gets high amounts of afternoon sun, you may want to consider a latex alternative.
Latex-based paint holds color well, even when exposed to bright sun and heat.
–> According to Realty Time magazine, the most popular exterior paint colors are white, gray, blue, tan/brown, cream, beige, green, yellow and red. White remains the most popular choice of all.
–> Most realtors suggest painting your house a light color or a pale shade of gray. This is because lighter colors make a home seem larger.
–> "Historic" colors are popular in some areas. Benjamin Moore and Sherwin Williams have been catering to this trend, as seen with colors such as "Williamsburg Blue," "Queen Anne Pink" or "Yorktowne Green."
–> Always check with your home owner's association (if you have one) before choosing a paint color for your home. Some HOAs have restrictions on exterior paint colors, since it can affect the value of other homes in the neighborhood.
–> Depending on your home's siding material and how exposed it is to the elements, you should consider repainting your home every 5-10 years.
Contact Colour Solutions today for a free estimate and to hear more about home painting trends in North Carolina: 910-686-3067