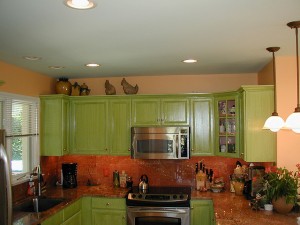 You may think that choosing the right color for your ceiling is easy. White…right? Well the truth is, there are actually several shades of what most people consider "white." Go too bright and it could throw off the rest of your room's color scheme. Go too dark and it can make the room look smaller than it actually is.
If you decide to go with something other than white, you'll want to choose something that will complement the rest of the room. Our team is skilled at color design and will happily offer advice on color palettes.
Another consideration is whether the ceiling is indoors or outdoors (like on a porch). The location of the ceiling and its level of exposure to the elements can also determine what type and color of paint you should use. Certain colors or types of paint may be more prone to fading if exposed to direct sunlight or severe weather.
In addition to choosing the right color, painting a ceiling can be a tough task due to difficulty reaching, troublesome textures and worrying about drips. Why not leave it to the experts who have all the right tools and experience to make your ceiling painting project go smoothly?
Colour Solutions has been offering quality painting and home repair services for more than 17 years and we are very proud of our client satisfaction rate (more than 98%!). Let us take the guesswork and headaches out of ceiling painting. Call us today for a free estimate! 910-686-3067