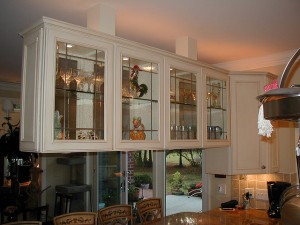 Your home's cabinets don't have to be dull. Then again, they don't have to be so attention-grabbing that they overpower the room. Finding that happy medium while showing off your personal style is what it's all about. Not sure which style is "yours?" Take a look at some of the latest cabinetry design trends and see if one (or a combination of several) speaks to the home designer in you!
Light, Bright & Simple
Smooth, solid surfaces, white paint and simple fixtures are all the rage right now. If you like a look that is classic yet modern, this is the style for you. Also, if your room is small, choosing a white or off-white paint color will make the space look bigger and brighter.
Long & Tall
Another way to maximize space in compact kitchen is to install cabinets that are taller, reaching up to the ceiling. Not only will this provide more storage space, it helps create the illusion of higher ceilings and a bigger room.
Au Natural
Not everyone is a big fan of the natural look of wood, but it's definitely making a comeback these days. If you go this route, choose a stain that brings out the natural grain patterns. And if you're new to cabinet staining, don't hesitate to contact a pro.
Elegant & Embellished
Another big trend we're seeing nowadays is implementing furniture-like accents to cabinetry. Adding a matching moulding to the tops of cabinets is a great way to complement a kitchen or bathroom that has crown moulding already in place. Adding other embellishments such as undercounter corbels, decorative feet, columns or rosettes will give your cabinetry a distinct look.
Glass-Front
Got a collection of dishes, linens, knick-knacks or books that you really hate to hide behind a closed cabinet? Glass-front cabinetry is the answer. This design style allows you to proudly display your items while still keeping them protected. The see-through feature also helps the room appear less "closed-off," and may even make your space look larger.
For more ideas on giving your room a cabinet makeover, talk to the pros at Colour Solutions – a team of friendly, experienced home improvement experts serving Wilmington, NC and the surrounding area. Just call (910) 686-3067 for a free consultation.