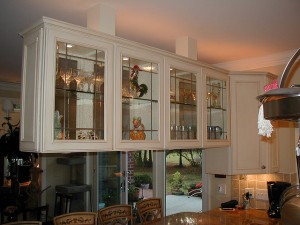 Over the years, your kitchen cabinets will get a lot of wear and tear. Instead of spending a small fortune to replace them, why not simply refresh their look with a new coat of paint or an attractive faux finish? Colour Solutions offers professional cabinet painting services to give your kitchen a totally new look for a fraction of the cost of replacing them.
With a very wide selection of colors to choose from, including the basic neutrals as well as attractive shades to suit just about any style, Colour Solutions can help you choose a look that works well in your kitchen. Whether you're going for a more modern look or you want to capture a rustic "shabby chic" motif, Colour Solutions' design experts can create a custom painting project suited to your tastes and budget.
Need a few ideas to get started?
Choose a bright white to create the illusion of a bigger, more open space. This works well in small galley kitchens.
Want something more unique? Consider experimenting with deeper shades of colors found throughout your home.
Consider the layout of your kitchen and how color will play into it. Does your kitchen open up to the dining/living area? You may want to break up the monotony by choosing a different color that complements the color in those areas. Likewise, you may start out with the idea of painting your kitchen and find that you'd like to have that color flow through the entire space.
Two-tone effects are also becoming more popular in kitchens. Choose a lighter color for your upper cabinets such as cream, white or a light shade of green, and choose a darker shade for the lower cabinets. This effect helps draw the eye upward and can make your ceilings appear higher, making the room appear larger.
Inspect the design of your cabinets. Depending on the style and texture, a faux finish may work well.
Check out our online gallery to get more ideas, then be sure to give us a call for a free consultation and estimate. (910) 686-3067.
In addition to cabinet painting, Colour Solutions also offers a wide selection of other home improvement services. Whether you need to get rid of that old, outdated wallpaper, want to refinish your deck in time for summer or need to fix a drywall mishap, Colour Solutions can help! Check out Our Services  to see a full list of what we can do.