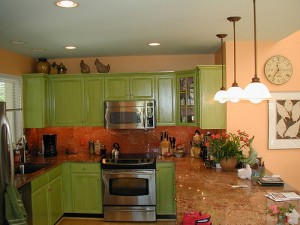 As we all know, a fresh coat of paint can really make a room *pop.* Â But why not take it to the next level with beautiful custom faux finished cabinets from Colour Solutions?
An increasingly popular design trend among residential and even commercial properties, faux finish stained cabinets are created by skilled artisans using only superior quality materials. A great deal of careful planning and preparation goes into making your cabinets look gorgeous – after all, we want to be as proud of them as you are!
If you're thinking of increasing your home's resale value with custom stained cabinets, leave it to the experts at Colour Solutions. We also offer custom faux finish interior painting, pressure washing, deck staining and more.
Call today for a free estimate: 910-686-3067