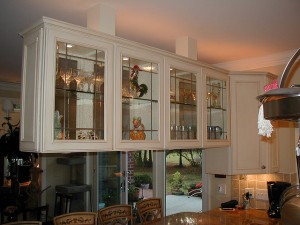 Giving your kitchen cabinets a fresh coat of paint can improve their look and give your room a completely different appearance.
With just about any color you can imagine to choose from, Colour Solutions can help you find the perfect shade for your home's cabinets. Choose classic white for a bright, clean look. Or go with something darker, such as deep forest green, to complement wood or copper elements and create a natural feel.
If you're thinking of doing something a little different, don't be afraid to experiment with bright colors or maybe even metallic finishes. Stainless steel appliances can look great when complemented by light counter tops and metallic-pained cabinets and compact spaces generally look much larger and more open when bright, light-reflecting colors are used.
Another unique idea is to use two different paint colors to create a two-tone effect in your home. Picture your upper kitchen cabinets in a light color such as white or cream, and the lower cabinets in a darker shade to match the color scheme of your home. This effect draws the eyes upward, making the ceiling appear higher and the room appear larger.
For more ideas for painting your home cabinets, contact Colour Solutions for a free estimate. 910-686-3067