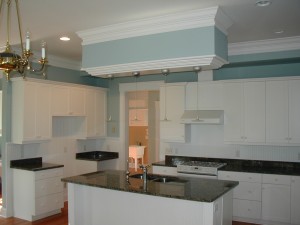 Have you ever heard the expression, "What looks in looks out"? If you've been looking into a dark, worn, or otherwise lackluster space each time you open your kitchen cabinets, consider giving them a makeover. Homeowners with glass cabinet doors in their kitchens already know how accenting these areas can add interest and a whole different dimension to the kitchen. The same kind of magic happens when the interior shelves, sides, and backs of cabinetry is given a pop of color.
Consider also how many times on any given day that family members reach into the kitchen cabinets for a plate, glass, mug, or snack. Painting the inside woodwork a cheery or contrasting shade can give everyone a little boost as opposed to reaching onto a dreary, beat up, shelf. Another makeover possibility when the inside is painted in a festive shade is that a few or all-cabinet doors can be removed for an updated, yet retro/vintage look.
When choosing an interior cabinet color for the kitchen, it helps to keep a few points in mind:
Do you want to have a contrasting accent color that's much darker or lighter than the outside framework and doors?
How will the new interior color compliment your stacks of dishes and glassware?
Are you already using a defined accent color elsewhere in your kitchen? That may be the direction to take.
In addition to creating a contrasting finish, monochromatic paint jobs are another way to go. These are especially attractive in more formal or contemporary kitchens, where interesting color choices for the cabinets can add sophistication and a little drama!
Even if the woodwork on the cabinetry exterior is stained, painting the interior can still make an impact. Choosing the right color to accent the wood finish can create a very subtle design scheme. For example, for an industrial modern feel that makes a bold statement, try oil stained ebony cabinets with red, fuchsia or emerald interiors. Natural oak doors with robin egg blue, mint green or lemon yellow interiors say country fresh.
It is also possible to use several colors when redoing cabinet interiors. This tends to either create a stylized contemporary look, or depending on the color palette, it may translate into something more whimsical.
Our team of experts at Colour Solutions would love to assist you in a project like this. Browse a gallery of our interior painting work to get an idea of how we can help transform your space.
We invite you to schedule a consultation to discover all the possibilities. Please complete the contact form on this page or give us a call at 910-686-3067 to find out more about all of our services.