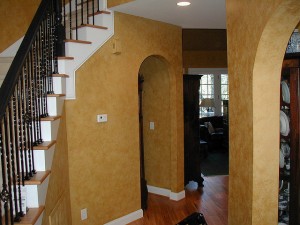 Faux finishing is a great way to personalize your home by going a step or two beyond a simple coat of paint by creating rich textures and patterns for your wall, cabinets or other home fixtures. Faux finishes can also be useful in covering small surface flaws and imperfections.
Knowing when and where to apply faux finishes is important, as they don't always work with every surface. Here's a look at some of the most popular faux finishes and where they work best:
Venetian Plaster – Gives the surface a marble-like appearance by creating depth and leaves a smooth but slightly textured feel. This finish is silky and cleans easily so it would be best suited for kitchens and baths.
Crackling -This gives a weathered appearance, as if the surface has been exposed to the elements for an extended period of time. Because this is a less subtle finish, it would work best for small spaces, cabinets, tables and other furniture. Not recommended for large surfaces such as living room walls.
Sponging – This is a faux painting technique that can be dramatic or subtle, depending on the colors chosen. Typically, two similar colors are used to create the effect. This finish is versatile and could work on a variety of surfaces.
Ragging – This faux painting technique imitates look and texture of aged leather or fabric. This is a great option for anyone looking for a dramatic look that isn't too over-the-top. Works well for smaller, intimate spaces such as studies or bedrooms.
For more ideas on faux finishes, contact Colour Solutions for a free estimate. 910-686-3067