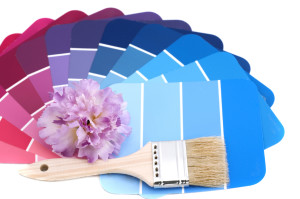 Everyone knows that changing your home's interior paint colors is the easiest and most cost-effective way to update and upgrade. Over the last few years, neutral choices have become the trend. Muted shades of earth tones such as grays, beiges, and creams, along with calm blues and soft greens are very popular in southeastern N.C. homes. However, after a few years of living with a neutral color scheme, some homeowners may be ready for a little more….well, color!
Interestingly enough this year's "Color of the Year" chosen by the Pantone Corporation is Radiant Orchid. If you've ever stopped to think where paint color choices originate, the Pantone Corporation gets the credit for its matching system. It was developed by a chemist, Lawrence Herbert, in the 1960's. For over 40 years, the Pantone Color Matching System has been used in the creation of fabrics, paints, and plastics. Knowing that, it is no surprise that the color analysts at Pantone are highly regarded for their trend setting predictions.
Radiant Orchid-2014's Color of the Year, is described as, "An enchanting harmony of fuchsia, purple and pink undertones, Radiant Orchid inspires confidence and emanates great joy, love and health. It is a captivating purple, one that draws you in with its beguiling charm."
Now if this choice sounds a bit extreme for your walls, remember that painting doors, window frames, trim, ceilings, bookshelf walls, mantles, stairways and banisters, are several excellent ways to introduce some fresh color into your home.
Although painting is an easy and economical choice, the tough part is choosing colors we can live with. If you are hesitant to make a decision and worried that your paint choice will lack staying power, please schedule an appointment with one of our paint experts. Just call 910-686-3067 to choose a time that works best for you!
Related Posts:
Beach House Paint Colors
Classic Paint Colors Ideal for Wilmington NC
Color Therapy