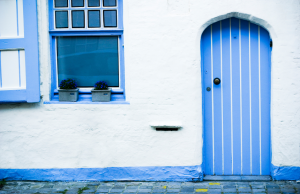 Summer is the perfect time of year for outdoor gatherings, and the perfect time to pay extra attention to your home's exterior. Perhaps you went all out during the spring cleaning regime to get your home's outside areas ready for family gatherings, barbeques, or lazy afternoons by the pool? By mid-summer, it's often time to give it another go so everything will remain fresh and inviting through Labor Day. Here's a handy checklist to ensure that your home is striding through summer, with its best foot forward:
1. Pressure Washing – Check exterior areas to see if a thorough pressure washing is in order. This is also a must-do activity prior to painting or staining.
2. Exterior Paint – Whether you decide to paint the entire exterior or just the trim, the summer is an excellent time for these projects. Warm mornings and more light in the evenings make it easy to work these projects into your summer agenda. Just read the labels of the products carefully to ensure that you are using them under ideal conditions. Or, better yet, call the experts at Colour Solutions and let them take care of your house painting projects!
3. Windows and Entryways – Pay attention to the windows and entrances. Have summer showers splashed dirt and grime on these areas? In spite of any spring-cleaning that was done, by mid-summer it's likely time for an encore. Sparkling windows and clean entryways equal (almost) instant gratification.
4. Outdoor Furniture – The previous point holds true for outdoor furniture, grills, and outdoor kitchens. Give them all a good scrub down and see if any touch-up jobs are called for. There are innovative paints for both metal and plastic that can breathe new life into tired finishes. Protecting those surfaces by sealing them with paint also prevents rust, mold, and mildew. And…you may be ready for a little pizzaz-wouldn't that old chaise look amazing with a coat of flamingo pink paint?
5. Deck Sealing – Is it time to reseal, paint or stain your porch or deck? The warm summer sun can speed up the curing process, which is vital to preserving the wood and keeping it looking great.
6. Decorations and Extras– Could your home's exterior use a few extras? After the 4th of July, lots of "summer living" items are on sale big time. Surely you could use a few things such as: a new doormat, pretty pillows or cushions for outdoor furniture, solar walkway lights, wind chimes, a hurricane candle for your picnic table, or fresh blooms for your front porch containers?
Remember that the additional TLC you give your home's exterior has big payoffs. Along with improving curb appeal, freshening things up also gives your home extra protection against the harsh moisture and humidity of summer.