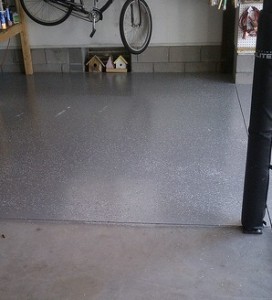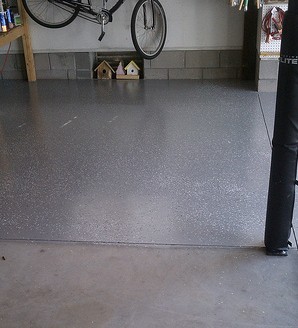 It's no secret that Spring is when homeowners frequently decide to make improvements and upgrades to their properties. Being cooped up during the dreary winter months seems to inspire many of us to get our homes in order. (Maybe it was all those snow days spent watching HGTV?)
When it comes to our garage floors, many homeowners think that there are not too many options. There is also a tendency to put these flooring improvements on the back burner, because they are viewed as majorly inconvenient to live with. However, a floor that is less than perfect may be easier to change than you thought!  Colour Solutions has the answers for how to update, refinish, or restore. Our team is experienced in a variety of applications, including staining, painting, and refinishing.
In the cases of homes with an attached garage, this space often becomes the most used entrance into the residence. When the garage floor is dingy, cracked, or just unappealing, the house in turn becomes guilty by association. That is, the condition of the garage can set the tone for the entire residence. Even when the garage space is neatly organized and tidy, a yucky, oil stained, paint splotched floor can cast its evil shadow. Living with a garage floor that does not meet your standards is not obligatory!
The Colour Solutions crew has a number of ways to spruce up garage floors. Sometimes, all it may need is a thorough pressure washing or treatment with a few of our products designed just for concrete. A professional cleaning is often all it takes to restore a garage floor to like-new condition. Afterwards, many of our customers are so pleased with the initial cleaning that they choose to go the extra mile and have the floor professionally painted or stained. If that sounds like something you'd like to consider, we will be happy to show you samples of past jobs and discuss which choices would work best for your existing floor. Could a NASCAR theme be in your garage's future?
To learn more, schedule an appointment, or discuss paint and stain options, please call Colour Solutions at 910-686-3067.
Related Posts:
Garage Floor Coatings For Wilmington NC Homes
Let Colour Solutions Rejuvenate Your Cement Flooring!
Why Paint A Cement Floor