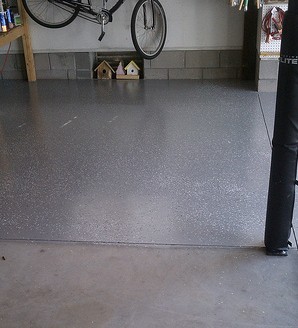 Cement floors are typically found in garages, workshops and patios. While it's not always necessary to paint these surfaces, doing so can be beneficial to your home or place of business.
In addition to creating a more aesthetically pleasing space, painting a concrete floor can add resale value to your home. Cleanliness is always a big selling point for homes, and while garage and patio floors will inevitably get dirty, if the surface is painted, it can be kept clean much more easily.
Concrete is porous, which means there are millions of tiny holes within the material. These tiny holes allow dirt, oil, grease and other contaminants to seep into the concrete itself, making it extremely difficult to clean. If you've ever wondered why the stains on your garage floor are impossible to remove, even after pressure washing, this is why.
Adding a coat of epoxy concrete paint will create a protective barrier between the concrete and all the nasty stuff that will fall on it. You can choose just about any color you want for your concrete surface, but most homeowners choose a neutral color. You can even choose a solid color look or add loose flakes for a terrazo or granite effect.
To learn more about concrete painting, talk to the experts at Colour Solutions. Call today for a free estimate! 910-686-3067