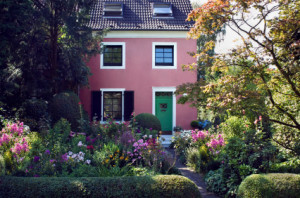 Spring is here at last! We certainly had more than our usual share of frozen precipitation, high winds, and bone-chilling temps during this past winter. Did you know that aside from hurricane season, winter weather is likely the hardest on a home's exterior?  Here are just some of the reasons why this is the case:
Excessive moisture may cause mold, mildew, and rot.
A home's siding, trim, and foundation can suffer from too much moisture.
The freeze/thaw cycle causes expansion and contraction of numerous building components and an increased amount of wear and tear.
Wind gusts of 20mph + (we had plenty of those!) wreak havoc on the roof and fill gutters with debris at an accelerated rate.
If the north wind and Jack Frost left you with a mess, the Colour Solutions team is at your service. In addition to professional painting services, our talented crew handles a variety of other jobs. Here are a few "spring cleaning" tasks that we are happy to take care of:
Gutter cleaning – Are your gutters full of leaves, pine cones, and small sticks? They cannot possibly be effective until they are thoroughly cleaned out.
Small carpentry jobs – Do you have warped planks on the deck, loose trim, or missing pieces of siding? Perhaps you have discovered a little wood rot or moisture damage? The time to address such issues is now before they lead to bigger headaches.
Fence cleaning and painting  -Is your once lovely fence stained or showing signs of mildew? We can restore it back to fresh and new!
Pressure washing – Whether your home is dingy from months of yucky weather or it's time for an exterior paint job, nothing does the trick like pressure washing!
Of course you had rather be spending these gorgeous spring days in the garden, at the park, at the beach, or on the golf course. Guess what? There's plenty of time for doing the things you enjoy most when you allow Colour Solutions to handle the big jobs!
We are a quick phone call away: 910-686-3067