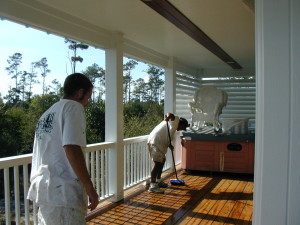 As we celebrate the beginning of a new year, many of us reflect on ways we can improve ourselves and our surroundings. If sprucing up your home or commercial property is one of your resolutions for 2014, a thorough pressure washing is an excellent way to get started!
Pressure washing can achieve amazing results and make a home or office really sparkle. In addition to removing dirt, grime and mildew, a pressurized wash is a must for those considering an exterior paint job. In fact, the process can kill two birds with one stone by completely prepping the exterior and lifting off loose or chipped paint, as well as dirt. Practically any surface can benefit from a professional pressure washing.
The team from Colour Solutions has experience pressure washing everything from brick to vinyl, concrete to wood, and even stucco. Did you know that using pressurized washing equipment makes quick work of cleaning gutters and outdoor furniture? Of course, we have also incredible results with decks, pool surrounds, porches, and even driveways! (we even do fences)
We are also able to do low pressure washing, which is ideal for many commercial settings. Surfaces such as vinyl and aluminum, respond very well to a lower pressure wash down.
In southeastern North Carolina, we are fortunate to have mild winters and early springs. March and April are truly just around the corner, which is why it's never too early to plan ahead. To learn more about pressure washing, make an appointment for a free estimate, or discover our full line of painting and repair services, please call us at 910-686-3067.