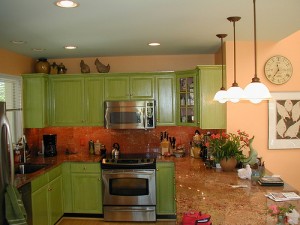 The winter months are a great time to get that interior painting project done that you've been putting off because of a busy summer, crazy school schedule in the fall, and holiday shopping and entertaining that all allow you to procrastinate anything that seems optional at the time.
After the holidays are over (and we've organized all our new stuff!) we're ready to settle back into a routine and get into the swing of things. I often find that by February, I'm energized and ready to get the house back under control after a few months (dare I say a year…) of letting things pile up, letting closets become disastrous, and allowing every flat surface and corner of the house accumulate mountains of stuff. We usually do a pretty good household purge at that point and then become inspired to shake things up, move things around, and get things cleaned up.
With a clean and organized house comes inspiration. And almost every year, we get inspired to complete an interior painting job that we've been meaning to do for a while. Our house has a number of windows, tall ceilings, and crown molding trim. That means many weekends of painting work for my husband and I in between the kids' basketball and soccer games, playdates, etc.
Or, it could be done in a day or so by the interior painting pros at Colour Solutions.
Colour Solutions works efficiently and professionally for interior and exterior painting projects, both residential and commercial. They'll get the job done quickly and make it look amazing – pus they'll clean up so well you won't even remember they were there (except for the beautiful paint job!).
Call us or contact us online to request an estimate: 910-686-3067
Related Posts:
Cabinet Painting and Repair, Wilmington NC
Interior Faux Finishes, Wilmington NC