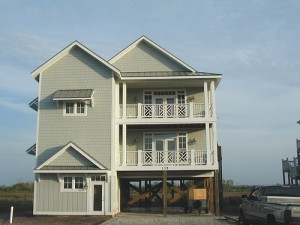 This is a question we are asked a lot. Unfortunately, there is no one answer that is true across the board. The answer depends on several factors, like climate, humidity, sun exposure, color and quality of paint and the material of your home's exterior (wood, aluminum, painted brick).
Generally speaking, a homeowner should plan on repainting every 5-8 years. Of course this number will vary by home and location, but it will at least give you a rough idea. You may be able to get up to 10 years out of your paint job if you choose a high-grade, extremely weather resistant paint and your home's exterior is in impeccable shape. Otherwise, it's best to play it safe and plan on 8 years being the maximum.
Keeping a good coat of paint on your home's exterior is crucial to maintaining home over time and avoiding expensive repairs down the road. Not only is a fresh coat of paint attractive and beneficial to your home's overall value, it also acts as a protective barrier, keeping your home safe from exposure to the elements.
Contact Colour Solutions today to receive a free estimate on your next exterior home painting project: (910) 686-3067