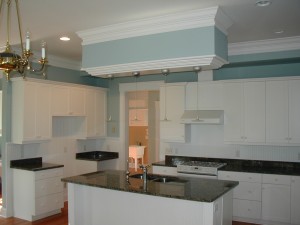 A fresh coat of paint does wonders for a home. Fresh paint covers imperfections, adds a personal touch and can dramatically change the entire look of a room. If you're considering some new, fresh paint colors for your home, here's a look at some of the most popular color choices for 2015, according to the home style experts at HouseBeautiful.
Greek Blue
This deep yet vibrant shade of blue is dramatic and somehow still calming.
60s-Style Colors
Believe it or not, olive green and orange are making a comeback! Could it be time to incorporate some swinging 60s style into your pad?
Sour Green & Blue
Why settle for just one new color when you can try two? According to the stylists interviewed by HouseBeautiful, "sour greens" (think sour apple green) combined with cooler colors like blue make for a bold and fashionable statement. Could make an interesting color combination for a guest bathroom or bedroom, perhaps?
Pastels
Pastels don't have to just be for springtime. These light, airy colors can make a small room seem larger and more airy. Got a small bungalow in need of a modern update? Try a soft pastel green kitchen or maybe a powdery pastel blue bedroom!
Neutral Gray
Gray is the new black, or so we've been hearing. What was once a neutral that got overlooked before, gray is making a big splash in all sorts of places. From fashion to furniture to housewares and yes, even interior paint, gray is likely to be one of the most popular design colors of 2015.
Renaissance-Inspired Colors
Think combinations like deep plumb and forest green, or brick red with beige to get an idea of this resurgence in color design. If you've got a spacious home with grand and luxurious rooms, these could be the perfect fit. Those with small spaces may want to opt for lighter shades of similar colors to minimize the risk of making rooms appear too dark and stuffy.
For more ideas on capturing this year's hottest color trends, check out the original HouseBeautiful article here. 
To get a free quote on your next home painting project, don't hesitate to call us! At Colour Solutions, we provide each of our customers with the utmost quality, superior customer service and fast, efficient work at a reasonable cost. Not to mention we are also happy to offer advice on color schemes, patterns and other household projects if you so desire. Just call (910) 686-3067 for more information!