We are often asked by homeowners whether they should have their deck painted, stained, or let the wood weather to a natural color? It largely comes down to personal preference and what looks best with the style of the home.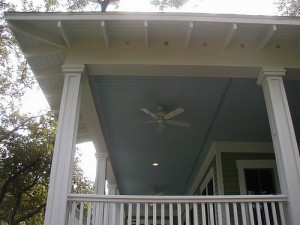 Paint
When painting a deck or porch generally the paint is matched to the trim color on the rest of the home's exterior, most often white or an off white or cream color. The porches on historic homes such as the Victorians found in Downtown Wilmington are sometimes painted an array of colors, creating a unique and eye catching look. A classic color choice for porch ceilings in homes of all styles is a pale blue. It's said to repel bugs and bring the look of the sky to the outdoor space.
Stain
Staining your deck or porch allows you to deepen or darken the color of the wood if you choose, with available shades ranging from lighter pines and oaks to darker chestnuts, cherries, and walnuts. This is a popular choice and can result in a very attractive look.
Natural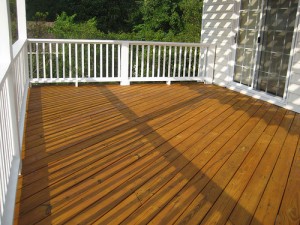 Leaving the natural color of the wood is also a great look, and is particular popular in coastal homes. Over time new wood will weather to a grey color. Choosing this natural look does not mean that we simply leave your deck or porch exposed to the elements – we would use a transparent finish to protect the wood while allowing its natural beauty to be seen.
Whichever finish you choose for your deck or porch it is important to have it redone every few years. The paint, stain, or coating protects the wood from water, mildew, and sun damage – allowing you to enjoy your home's outdoor areas for many years to come!
Contact our expert Wilmington NC Painters for help with your deck painting or staining: 910-686-3067.