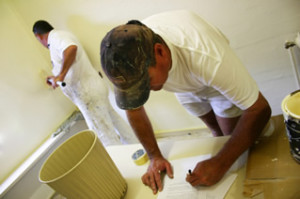 As the months, years and decades go by, trends in interior design inevitably change. What was once the epitome of a stylish home may now be considered "outdated" or even "ugly." Wallpaper is a prime example. While it was a popular choice for many homeowners 10 or 15 years ago, wallpaper is now seen as something that dates a home and may even make it difficult for a homeowner to sell their property. Luckily, wallpaper doesn't necessarily have to be a permanent fixture in a home. Not so luckily, wallpaper is notoriously difficult to remove. So much so, that many homeowners hire professionals to remove outdated or unsightly wallpaper. Here at Colour Solutions, we are happy to offer wallpaper removal services in Wilmington, NC and many surrounding areas.
Whether you've just purchased a new home and want to remove the previous owners' wallpaper, or you tried out a wallpaper design yourself and you're less than thrilled with the outcome, we can help! Our team of professional home improvement technicians can carefully, efficiently and affordably remove your home's unwanted wallpaper, giving you a fresh new blank slate to design your room to your own taste.
Because wallpaper designs can come in an astonishing array of colors, patterns and prints, wallpaper choices can be very personal and may not fit with everyone's style. Therefore, if you have a home that you're thinking of putting on the market, you may want to be proactive and have the wallpaper removed before you list your home. This will not only help your home get more attention, but you may even be able to ask a higher price for your home. Of course, you should speak with your real estate agent for their advice before you make any major decisions, but we would be happy to offer a free in-home estimate and consultation if wallpaper removal is something you'd like to consider.
Now you may be thinking, "why hire pros when I can just remove the wallpaper myself?" Naturally, the DIY route has its benefits, but once again, wallpaper removal can be quite an undertaking for people who have never done it before. Here are a few special benefits to hiring a professional as opposed to doing it yourself:
Pros will always have the right tools.
Wallpaper removal can be difficult even with the proper tools and equipment, but if you don't have the best tools for the job, it can be a very time-consuming and frustrating process.
Pros know what to do if the walls weren't primed correctly.
Sometimes when we remove wallpaper, we uncover mistakes that the previous owners or workers made. For instance, if the walls weren't primed properly, the wallpaper could be even more difficult to remove. Pros can bring in special equipment for this type of scenario.
Pros will clean up the mess when they're done.
A good, professional wallpaper removal service will complete the job without leaving a gigantic mess for you to clean up. They'll leave your home in the same condition it was before they started and will take care of throwing away the wallpaper and other waste created during the process.
Hiring pros can actually save you money.
Removing wallpaper on your own (at least doing it properly) will probably require you to rent special equipment or buy certain tools. In the grand scheme of things, hiring professionals may actually turn out to be less costly than doing it yourself.
To learn more about wallpaper removal services in Wilmington, NC please call us at (910) 686-3067 for more information and a free estimate.