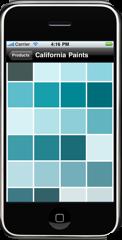 Isn't the digital age wonderful? At the press of a button (or tap of a touchscreen), we can share pictures, compare prices and even design a home. Did you know you can even choose paint colors for your home through mobile apps?
In today's post, we're going to go over a few of these useful applications:
PaintSwatches (from Aquariform Designs) -Â This $1.99 iPhone app allows you to pick color from several paint companies, including Sherwin-Williams and Glidden in a simple, easy-to-use format. Scroll through swatches, search by color keywords like "frost" or "pepper" and create your own custom paint color collection.
Benjamin Moore Color Capture -Â This app is free on the Android as well as the iPhone/iPad/iPod Touch. Simply use a photograph on your device to generate a palette based on the colors in your photo. Save and store the palettes you love.
ColorSmart (from Behr) -Â Behr's popular color generator on their website has been transformed into an on-the-go mobile app. The app allowe you to preview rooms with your color selections as well as pull matching shades from your own photos. Best of all? Android and iPhone/iPad/iPod Touch users can snag this app for free.
If you'd rather speak with a professional when it comes to choosing a paint color, don't hesitate to contact Color Solutions. With years of painting experience, the experts at Colour Solutions will be happy to help you choose the best shades for your home. Call 910-686-3067 for a free estimate.
Sources:
http://www.stylelist.com/2012/02/09/10-paint-color-apps-for-iphone-ipad-android-photos_n_1266573.html#s680136&title=ColorSmart_by_BEHR
http://www.bobvila.com/blogs/paintswatches-iphone/