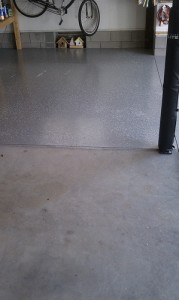 If you're like most homeowners your garage is much more than just a place to park your car. Your garage might be a place to store everything from holiday decorations, to sports gear, to lawn equipment – freeing up valuable square footage inside your home. It could be a spot to park bikes, strollers, ATVs, and boats. Other options include a game room, man cave, or shop for auto maintenance, woodworking, or crafting. Whatever role your garage fills in your home and your life, you can improve it's look and functionality with garage floor coating from Colour Solutions.
Garage floor coatings come in just about any color you can imagine and drastically improve the look of your garage. Choose a light color so that you can easily find dropped screws or parts, or select a darker color for a sleek look that won't show wear. The surface is easier to clean making it more sanitary for your family, and less time consuming to maintain.
Improve the quality of your garage with a garage floor coating and you could also increase the value of your home. Many prospective homebuyers have a garage on their list of "must haves" – make your home stand out with a state of the art garage floor coating from Colour Solutions. For a free estimate or to learn more call 910-686-3097.