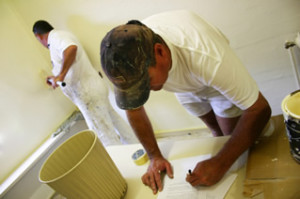 The winter weather of 2014 has been tough for much of the country. It's no secret that millions of us are excitedly counting the days when spring and warmer temps finally come our way. Rather than huddle inside by the fire, why not get ahead and perk up your home with some fresh paint? That way, when those gorgeous days finally do arrive, you'll be able to enjoy them completely!
Perhaps you're ready to change the color of your kitchen, family room, or want to redo a bathroom? Dollar for dollar, paint is hands down the most cost effective way to update your home. And what's even better is that today's low VOC paints make it easier and safer to tackle indoor painting jobs.  Just like with clothing styles, there are new spring collections for paint colors. We'd love to show you what's new for 2014!
When you schedule an appointment, you can meet with our experienced staff members who will be happy to guide you to choices for your next painting project. Here's a quick list of some of our most requested winter time projects:
Pressure Washing – It's the perfect way to prepare a home's exterior for a fresh springtime paint job.
Garage Floor Coatings – Has this winter destroyed your garage floor? A new coating will make it like new again!
Wallpaper Removal – Are you ready for a new look, but just can not get the old wall paper off the walls? Leave that messy job to us! We also handle drywall repair.
Cabinet Refinishing – If your kitchen or bathroom cabinets are dark and dated, you may be interested in finding out how easy it is to have us refinish them. Simply call one of our team members for an estimate.
Faux Finishes – Are you intrigued by some of the specialty finishes or interesting paint jobs you've seen on the home and decorating programs? From faux finishes to the new ombre, we can help!
Spring is truly just around the corner and let's face it, there is so much more to enjoy when your home is freshly painted and in an excellent state of repair. Find out all the ways we can help you get the most from your spring and summer with a call to Colour Solutions at 910-686-3067.