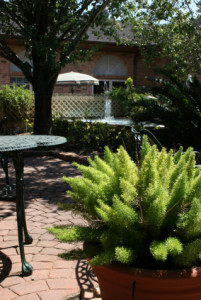 Whether you're planning a big Fourth of July barbecue, want to enjoy the outdoors in the comfort and privacy of your home, or you need to make your place look great before putting it on the market, giving your home's outdoor space some TLC can really improve its appearance and value. From refinishing your back deck to adding a cozy outdoor sitting area, Colour Solutions can provide a range of home improvement services to help transform your outdoor area into the perfect summer sanctuary.
Here are a few ideas for adding to or improving your outdoor living space:
1. Deck remodeling/painting/staining
Whether you want to completely remodel the design, or simply add a nice coat of paint or stain, enhancing the look of your deck can add a tremendous amount of personal appeal – not to mention boost its market value. During the summer, people tend to spend more time outdoors, so it makes sense to make these outdoor living spaces as comfortable and attractive as possible. Deck improvement projects can range from large-scale remodeling to simple paint and stain jobs, but whichever you decide to do, you'll be glad you did it when you're showing your home to guests or potential buyers. And even if you're not the type to entertain and you aren't planning on moving any time soon, you can still benefit from these improvements. There's nothing quite as satisfying as lounging on your own private, newly improved deck!
Wood deck staining is relatively inexpensive, but can make an enormous difference in appearance. Not only that, but the right stain product can prolong your deck's life and keep it protected from the harsh heat and UV rays of the summer atmosphere. Painting can have similar benefits, allowing you to further personalize the look of your home's exterior and protect the material from damage.
Colour Solutions is proud to offer high quality painting, staining and refinishing services for your home's deck structure. Give us a call today to learn more and to schedule a free consultation: (910) 686-3067
2. Outdoor fireplace or fire pit
Summer nights are perfect for sitting around a cozy fire. Why not create your own private sitting area, complete with a built-in fireplace or fire pit? Whether you want a large, opulent stone fireplace to complement your covered back patio, or you just want a simple fire pit in your backyard that you can surround with comfy outdoor chairs, you can add an element of warmth and hospitality to your outdoor space with one of these fireplace features.
Just remember, if you're doing the project yourself, you need to keep safety the top priority. Make sure your fire pit is deep enough so that embers and tall flames can't "jump" or spread to your lawn. And make sure, if you're making a fireplace, that you allow for proper ventilation of the smoke. If you've never constructed an outdoor fireplace before, it may be wise to leave it to professionals and hire a contractor.
3. Sunroom/screened porch
One of the drawbacks to summertime (at least here in the South) is the presence of insects. Mosquitos, bees, junebugs, cicadas, dragonflies, and other small pests are more prevalent in the summer so having an outdoor space you can enjoy without the annoyance of these bugs can be really nice. If you've already got an outdoor patio, consider enclosing it to create a sunroom. You can add glass panels, sliding doors, windows, etc. to customize the design. While sunrooms tend to be a bit on the expensive side, they add a great deal of value to your home and can be enjoyed in any weather.
A more budget-friendly option would be to add a ceiling, some support posts and some durable screening material. Screened porches are nice because they allow the fresh air to circulate through the area and are less complicated to construct. You can also customize the design of your screened porch by adding some medium-density fiberboard (MDF) panels to the bottom. This can further aid in keeping bugs, dirt and debris from getting through the screen and it gives the space a nice, finished look.
Be sure to contact the experts at Colour-Solutions in Wilmington for any of your painting, pressure washing, staining, or even carpentry needs this summer: (910) 686-3067