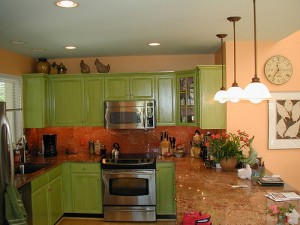 When people think of interior painting, they usually just think of painting the home's interior walls, baseboards, doors, window frames, and maybe the ceiling. But did you know that there are a number of unique home painting projects that can add a whole new look to your home's interior? Believe it or not, there are plenty of painting projects that a homeowner might hire a professional for – that don't have anything to do with the home structure itself!
Here are three examples:
1. Furniture – Even though a lot of folks decide to paint furniture themselves (after all, it's fairly easy to do and doesn't cost much), others prefer to hire a professional painter. It could be for any number of reasons. Some people just don't want to devote the time it would take, others would rather trust a professional to make sure the paint job is completed in the best way possible and some people, while they love the look of freshly painted furniture, just don't have the desire to do the work themselves. A few ideas on painting furniture to transform the look of your space include, kitchen tables and chairs, large items such as a hutch or buffet, living room end tables, coffee tables, dressers, bookcases, and so on.
2. Upholstery – That's right. You can actually paint the fabric on your sofa, armchair, pillows, etc. The process is a bit more complicated that regular painting, which is why hiring a pro might be a good idea for this particular project. In order to successfully paint upholstery, you will need to use a mixture of water, fabric medium (can be found in craft stores and some home improvement stores) and latex paint. Be sure to let your upholstery dry thoroughly before allowing anyone to sit down on it!
3. Appliances and Fixtures – From refrigerators to washers and dryers and even countertops and faucets, you can bring a new level of style to your home by adding a fresh coat of paint. The most popular type of paint for appliances and household fixtures is metallic, but you can go with something simple like black or white as well.
If you'd like to hear more about unique ways to improve your home's interior through painting, contact the painting professionals at Colour Solutions. Serving the Wilmington, NC area, Colour Solutions can offer expert advice and helpful design suggestions for your painting needs. Call (910) 686-3067  or visit Colour-Solutions.com today for a free estimate!