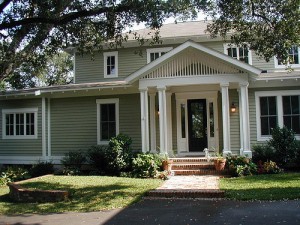 Spring flowers bring pollen…and lots of it. This is a great time of year to schedule pressure washing for your home with Color Solutions, and get your home looking its best. In addition to that yellow film of pollen, pressure washing will remove dirt, mildew, and other grime from your home's siding, windows, decks, and porches.
Pressure washing doesn't just improve the look of your home, it protects the siding and finish by clearing away mildew that can cause serious damage if left year after year. Your paint or siding will last longer when regularly cleaned. Other items looking a little grungy after winter? Ask about pressure washing fencing, outdoor furniture, or planters.
Are your gutters filled with live oak leaves, pine straw, pine cones, or other debris? Let Colour Solutions clean them out so the water can flow freely and drain where intended during the Spring and Summer storm season. Gutter cleaning will keep your home cleaner and benefit your landscaping which can suffer when rain runs off in unexpected areas.
Other candidates for Colour Solutions Spring Cleaning List include:
Concrete Cleaning – Removes dirt and stains from driveways, sidewalks, and other concrete areas.
Interior Painting – Touch up scuffs and marks on walls, or bring new life to a room with a full repaint.
Deck Refinishing – Be ready for summer cookouts with a newly refinished deck.
Give us a call at 910-686-3067 or request a free estimate online.