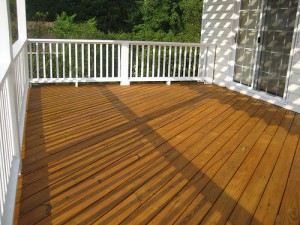 In addition to expert painting and pressure washing services, Colour Soutions is also an ideal source for deck staining, painting, and refinishing.
Many of us live, work, and retire in the beautiful Wilmington, NC area because of the warmer climate here on the southeastern North Carolina coast. The warmer temps and sunny days allow us to spend more time outdoors and for that reason, most homes are built with back decks or front porches to help us enjoy the outdoors from the comfort and convenience of our own homes.
Wood decks need quality care to help them last in our humid environment. Regular deck refinishing and staining or painting is imperative to having a deck that survives over 10 years or so with minimal cracking or splintering. Deck work also helps keep your home's exterior looking sharp and attractive which can do wonders for your peace of mind, not to mention the potential resale value of the home.
Colour Solutions has extensive experience with deck refinishing, staining, and painting – including work on the deck boards, steps, railings, and built in bench seating. Trust us to help maintain your deck and keep your yard and home's exterior looking its best! Take a look at our gallery of exteriors to get an idea of the work we can accomplish.
Contact Colour Solutions today to learn more about our deck staining, painting, and refinishing services: 910-686-3067.