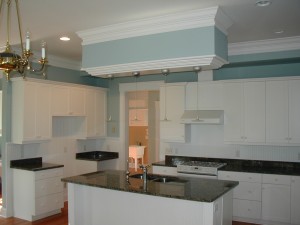 Making improvements to your home's kitchen and bathrooms can have a big impact on its resale value, not to mention your own sense of comfort and happiness. One way to easily transform your kitchen or bath into a beautiful space is to add a fresh coat of paint. At Colour Solutions, we offer a range of kitchen and bath painting services in the Wilmington area, from simple applications to luxurious faux finishes, all at a reasonable price.
If you're planning on putting your home on the market soon, a newly-painted kitchen or bathroom will add value to your home and will likely attract more potential buyers. Just be sure to consult with a Colour Solutions design expert first, to help you choose a color that will appeal to a wide range of tastes. Of course, you can't please everyone, but when putting your home on the market, it's important to consider the taste of those who may be interested in buying. If you choose something extreme or something that reflects the current "fad," the paint job may end up being more of a deterrent. Neutrals are usually the safest bet, but light or muted colors can also be attractive.
Even if you aren't planning on selling your home any time soon, adding a fresh coat of professionally applied paint can do wonders for your home's personal appeal. Kitchens are especially important. It is estimated that most people spend the majority of their time at home in the kitchen, as opposed to any other room in the house. It makes sense when you think about it. Kitchens are thought to be the heart of the home, as this is usually where families gather to prepare meals, talk to one another and socialize with friends. Haven't you ever noticed that people tend to hover around the kitchen at parties? This is probably due to the common link between food and socializing. So why not do something to really improve one of the most important rooms in your home? A professional paint job is a relatively inexpensive way to spiff up any room, but a kitchen will benefit from it the most.
Like kitchens, bathrooms tend to get a lot of traffic. Although they aren't used for socializing or eating, bathrooms are also very important when it comes to the overall comfort and appearance of your home's interior. A bathroom with a poor paint job or stained and outdated wallpaper will certainly detract from the home's resale value, but it can also bring your mood down. Studies have shown that when homeowners are proud of the way their home looks, they tend to enjoy spending time at home more than those who are unsatisfied with their home's appearance.
If you'd like to explore the possibilities in your home, be sure to contact Colour Solutions for a free painting estimate. Call 910-686-3067 or simply fill out our contact form on our website. We offer high-quality, professional kitchen and bathroom painting services at affordable prices. We also offer a wide selection of other household improvement services such as exterior painting, wallpaper removal, wood staining and gutter cleaning, just to name a few.