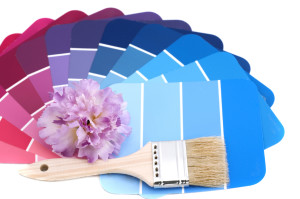 It's pretty common knowledge that a fresh coat of paint can do wonders for a room – and at a minimal cost. In fact, when it comes to home improvement projects, painting probably offers the best bang for your buck.
In this post, we'll go over a few fairly simple paint projects that can totally transform the look of a room.
1. Accent Wall
Instead of painting all four walls of a room the same exact color, many homeowners and interior designers are incorporating the accent wall. An accent wall is basically just one wall (usually the focal wall, or the wall the eye is first drawn to when you walk in the room) that is painted a different color than the other three walls. Some people choose to make their accent wall a slightly lighter or darker shade than the surrounding walls. Others go bold and choose something completelty different. Whichever path you decide to go, the accent wall will definitely give your room a whole new look and depth without a high cost.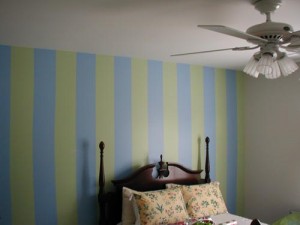 2. Recessed Areas/Cabinets/Below Chair Rails
You don't necessarily have to paint the walls in order to get a whole new look. Sometimes just a splash of color here and there is all you need! Consider painting the interiors of glass-front cabinets or recessed areas to accent certain areas of the room. This is popular in kitchens and dining rooms as well as dens and living rooms. You can see a great example in this photo from our gallery: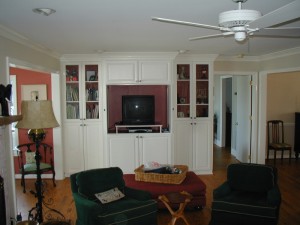 3. Ceilings
Textured ceilings aren't nearly as popular as they used to be. In fact, more and more people are choosing to remove acoustic or "popcorn" ceilings as they're commonly known and opting for a simply, flat coat of paint instead. Not only does this give the room a sleek, clean look, it can provide yet another opportunity to add some color in an unexpected place. Just like with an accent wall, an accent ceiling can give your room a totally fresh and interesting look. Got a boring bedroom that you'd like to jazz up? Why not paint the ceiling your favorite color and add some coordinating pillow cases and decor? Here's a great example from our gallery: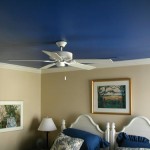 At Colour Solutions, we pride ourselves on our years of professional, courteous and reasonably-priced home painting service. Whether you want something simple, or you're leaning toward a specialty finish, Colour Solutions can help you get the look you've envisioned for your home at a price that you can afford. Call us today at 910-686-3067 to schedule your free estimate and consultation!