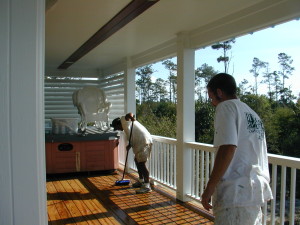 In the coastal NC region, fall means the beach crowds are thinning out, the night air has a little crisp to it, and the days are getting shorter and a lot less humid! Yes, fall is a great time of year for our little corner of NC and it's also a great time to give your home an autumn checkup. We understand that taking good care of a home is a year-round job, but there are certain projects and small tasks that every property owner should do in the fall to prepare for the winter ahead. To help you get started, we've compiled a short list of fall home maintenance tasks we recommend.
1. Clean those gutters!
Gutters and downspouts can get clogged and cruddy pretty quick around here. With the abundance of pine trees, oak leaves, and birds looking for a place to nest, homeowners in the Wilmington area should take special care to ensure their gutters are cleared of debris. We know most people don't enjoy cleaning out gutters, but this simple home maintenance task doesn't take a whole lot of effort and can save you from bigger, more expensive repair costs in the future. If the thought of cleaning gutters makes you cringe, or if you simply don't have the time, Colour Solutions can help! We offer gutter cleaning as one of our many home maintenance services. 
2. Deck staining/sealing/refinishing
If you've ever spent a summer in southeastern NC, you know the summers are HOT and humid! These two conditions make the summer season a less-than-ideal time for staining, refinishing or sealing your home's deck. Likewise, the heat from direct sunlight and moisture in the air makes exterior painting a little trickier during the summer – that's why fall is a terrific time to tackle these projects! Need help in the deck maintenance department? No problem! We provide deck refinishing, wood staining and other related services.
3. Prep your lawn & garden for colder days ahead
The general rule of thumb for laying grass seed, fertilizing, and adding mulch is to do it once in the spring and again in the fall. The milder temperatures prevent these materials from drying out. Not sure what type of grass seed, fertilizer or mulch to use? Snap a couple photos of your lawn/garden and take them to your local nursery or home improvement store. The pros there can offer you advice on which products will work best for your lawn's needs.
4. Got a fireplace? Get it cleaned!
Even though we live in the South, the winters here can still get pretty cold! That's why many homeowners around here like to use their fireplaces in the colder months. But before the winter sets in and you want to gather around the hearth, make sure you have your fireplace cleaned and inspected by a professional.
5. Check for damaged/rotting wood
Give your home's exterior a once-over and check for any signs of rotting wood. Fence posts, porch beams, steps and trim are all places to watch. If you notice anything that looks suspect, like soft or discolored spots, check around the area to see what may be causing the damage. Could it be water that isn't draining away from the home properly? Or perhaps debris has piled up on the surface, trapping moisture? Do you notice a lot of small insects around the damaged spot? Once you have an idea of what's causing the problem, you can take the necessary steps to fix it. And of course, Colour Solutions is here to help! We offer light carpentry repair as one of our services, as well as routine yearly maintenance programs.
For more information on Colour Solutions and our list of home maintenance services, please call 910-686-3067. We look forward to hearing from you!