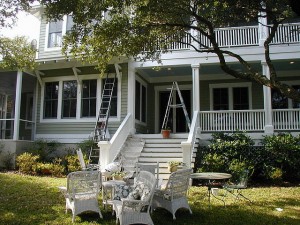 The tourists are leaving, the beaches are quiet and the oppressive Wilmington humidity has given way to mild days and cool nights. Yes, fall is here. And what better time of year to get a start on those house projects you've been thinking about?
Fall is a great time of year for Southeastern North Carolina and is used by many residents to get started on their home project to-do lists. It is also a wonderful time to take stock of the state your home is in, determine what maintenance is needed and allow it to look its best.
At Colour Solutions, we offer more than just interior painting services. We love working in the fall, as it provides several opportunities to help homeowners improve the look and value of their home. Some popular fall projects include pressure washing home exteriors, doing some preventive maintenance with light home repairs, or even impressing holiday visitors with a special faux finish paint. Contact us today to learn more about fall projects for your home.
More Tips on Keeping Your Home Fall Fresh:
* Make sure your lawn and garden are looking their best, so that it can complement your beautiful home. Keep lawn trimmed and control weeds.
* As summer fades, leaves and branches fall and flowers can die off. Pick up any yard debris quickly and plant some fall-friendly flowers like chrysanthemums and maybe even add some fresh mulch to landscaped areas.
* Keep your home's exterior clean and mildew-free.(See more information on our pressure washing services.)
For more information on fall services from Colour Solutions and to receive a free estimate, call 910-686-3067. We can help you beautify your home for fall and prepare it for winter, all while providing excellent customer service and high-quality work.