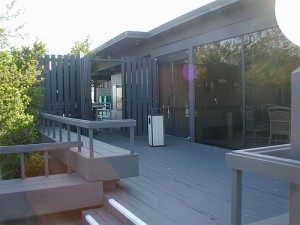 Here in coastal North Carolina we are lucky to be able to enjoy our decks, balconies, patios, and other outdoor living areas just about year round. They can be among the most used and most loved parts of the home! Give your deck the care it deserves with proper maintenance so that it will last for years to come.
There are many options to choose from when it comes to deck finishes. Unlike some parts of the country that have a characteristic style, there are many looks that are right at home in the Wilmington, NC area. Though you might make one choice for a historic Victorian downtown and another for a beach house along the Waterway, here are a few possibilities to consider:
Deck Staining – Choose from a wide variety of colors from deep chestnut and walnut to lighter oak and pine.
Keep It Natural – Letting the wood weather to a classic gray is a popular choice, but be sure to protect it with a water repellent finish. This will greatly extend the life of your deck.
Bright White – Make your deck pop against the color of your home with a bright white exterior paint.
Trim Color – Match the color of your home's trim whether it is a classic off white or a bold and attention grabbing color.
Accent Color – Give your deck its own personality with a hue that accents the other color choices on your home's exterior.
For more ideas browse through our gallery of exteriors and then give Color Solutions a call for a free estimate. You can reach us at 910-686-3097.
Related Post: