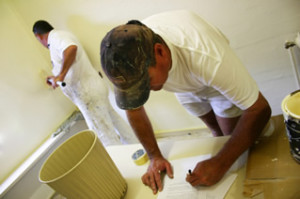 At Colour Solutions, we don't just provide the Wilmington, NC and surrounding areas with excellent home painting service. Did you know we also handle a variety of other home improvement and maintenance projects, including drywall repair? Drywall repair is something the average homeowner doesn't want or know how to do, so most people have to rely on professionals. However, don't let this make you feel like you're at the mercy of contractors – equip yourself with a little knowledge beforehand so you'll know what to expect from a good professional drywall repair company.
In this post, we'll go over the five main points every homeowner should be concerned about when hiring a drywall repair service. If you have any questions or concerns about your drywall, don't hesitate to give us a call after you're done reading!
What to expect from a drywall repair company
1. Estimates
Any good drywall professional should be able to provide you with an estimate on request. The estimate should be thorough, including the estimated costs for both materials and labor, as well as an estimated time frame for completion of the job.
2. Insurance & Proper Licensing
As with any type of home repair or construction specialist, a drywall repair service should have all the proper licensing and insurance. Remember, regulations can vary by state, city, county, etc. so make sure the company you hire holds the right legal coverage for the location of your home. In other words, don't hire the guys two towns over just because they're cheaper. If something goes wrong, they may not be covered in your area.
3. Experience
This is a pretty important one, especially for drywall repair. Do a little research on the company you're considering and see how long they've been in business, how much experience their installers have and so forth. Also, don't be too put off if they bring a novice to your home (after all, everyone has to start somewhere), but any newbies should be there to assist and learn from the more experienced workers who should always supervise the trainee.
4. Communication
As we covered earlier, most typical homeowners don't know a whole lot about drywall repair, so the people you hire should be able to explain any issues and answer any questions in a thorough and easy-to-comprehend manner. Most professionals know that you don't have full knowledge of drywall, so they should be able to anticipate your questions even before you ask them. But if you think of something they didn't cover during your first interview/assessment, don't be afraid to ask!
5. Thorough paperwork
In addition to the written estimate, all other paperwork and documentation should clearly state all necessary info for the work involved. This includes any service contracts, lists of materials used, hours of work completed or to be completed, and so on. Remember that your estimate is just that – an estimate. Things can vary from the estimate due to any number of things, but your contract or final invoice should spell out everything clearly and reflect exactly what was done in your home.
If you have any questions or concerns about a drywall issue, feel free to give us a call at Colour Solutions. We serve the Wilmington, NC area and many surrounding communities. Call us today at (910) 686-3067 for more information.